Executive and Advisory Board
MGA is a neutral network that deals with the chances of Additive Manufacturing in business. We focus our tasks and activities on the challenges of the industry. To represent the interests of our members, we are organized as follows:
In his position as CEO of DB Fahrzeuginstandhaltung GmbH Gorden Falk represents the interests of Deutsche Bahn AG Group with more than 300,000 employees worldwide. From his perspective as a user, the main goal is to make components available as quickly as possible. Hence, he sees the vast potential of additive manufacturing above all in the supply of spare parts.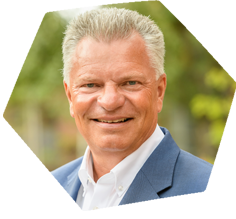 Prof. Dr.-Ing. Claus Emmelmann
Vice Chairmann
Prof. Dr.-Ing. Claus Emmelmann is heading the Institute of Laser and System Technologies at Hamburg University of Technology since the year 2001. With his team of researchers he is performing research and development in the field of laser additive manufacturing, ablation, cutting and welding as well as design and analysis of laser components and systems for automotive, shipyard, aircraft, tooling, polymer and medical industry.
As an author of more than 400 national and international publications, Prof. Emmelmann founded the LZN Laser Zentrum Nord GmbH in 2009 as a spin-off of the TUHH and is managing it since then.
The LZN transfers the latest research results from laser material processing in industrial applications and carries out research and development projects for leading technology companies such as Airbus, Audi, BMW, Cloos, Daimler, Siemens, Trumpf and VW.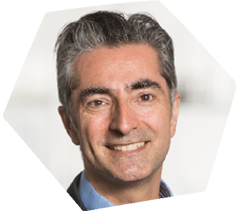 Güngör Kara
Member of the board
Güngör Kara is Chief Digital Officer at Ottobock SE & Co. KGaA and a Senior Executive in the field of Digital Innovations within the Medtech sector, covering the areas of new digital products, platforms business models, Industry4.0 and disruptive technologies like industrial 3D Printing.
He focuses on the implementation and continuous development of Ottobock's ambitious digital strategy as well as establishing new business models, leading the internal start-up teams and expanding globally the cooperation with external start-ups.
He studied mechanical engineering in Berlin and has an MBA degree from the WHU – Otto Beisheim School of Management – in Vallendar and the Northwestern University in Chicago.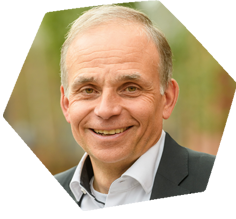 Johannes Emmelheinz
Member of the board
Johannes Emmelheinz is CEO Customer Services of Siemens Mobility GmbH. After a study of biomedical technology at University Gießen he gained experience in medical and mobility industry for over 30 years.
"Additive Manufacturing (AM) is a decisive step in innovation. In the service we are enabled to have spare parts of small quantities both cost-effective and rapidly available for the entire lifetime of the product . We are able to revolutionize the logistics chains by printing the spare parts just on-site. In addition AM offers the opportunity to rapidly react with design corrections to weaknesses which were recognised in the course of operation.
Fazit: AM will lead to higher availability and lower total costs."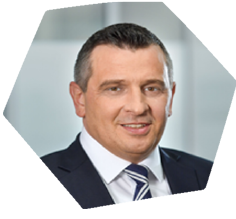 Karsten Reinhardt
Treasurer
Karsten Reinhardt has been Managing Director of Finance and Controlling at DB Fahrzeuginstandhaltung GmbH since 1 February 2019.
As controller he sees himself as a reliable business partner of the management, but also as a critical counterpart and navigator of the business management.
The finance department is responsible for the coordination and control of all processes for securing results and assets.
After studying business administration at the Justus-Liebig-University in Gießen, Mr. Reinhardt has been working in various positions in the DB Group since 1996.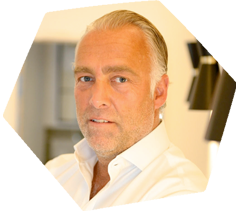 Steffen Kuhn
Advisory Counsellor
Studied plastics engineering in Darmstadt. 1999 joined the central research and development department of the DaimlerChrysler Group. Further positions at DELO Industrial Adhesives and the American aerospace group PPG Aerospace. At home in the world of additive manufacturing since 2013, first in the business development team of the Belgian company Materialise NV and since 2018 at the German mechanical engineering company EOS GmbH, where he was Senior Business Development Manager with global responsibility for business development in the service provider and emerging markets segment. In June 2020, he became Governmental Affairs Officer.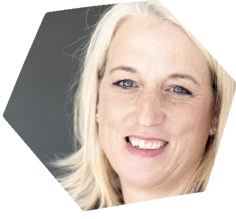 Sonja Rasch
Advisory Counsellor
Sonja Rasch is Sales Director and Business Developer serial production at Materialise.
With >20 years in AM she combines experience from many perspectives: science, material development, machine vendor, service bureaus, automotive industry and industrial goods.
In Materialise she is in responsible for solution providing in serial applications for all kind of industries, mainly aerospace, but also consumer, medical and production tooling.
Clever combinations with Materialise 3DP software lead to full digital-supply-chain projects and mass-customization-scan-to-print-solutions.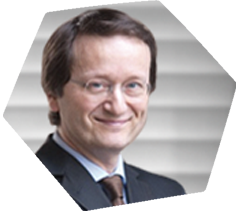 Dr. Andreas Leupold LL.M.
Advisory Counsellor
Dr. Andreas Leupold is working as a lawyer for companies from all over the world for more than 20 years with the main focus in the legal areas IT, new technologies, data protection, media, licenses and industrial property rights. As a trial lawyer in all instances for some very well-known companies and groups of companies, he has many years of legal practice. He is listed in the Handelsblatt list of the best business lawyers and in the Best Lawyers Germany List for information technology and media law. In 2016, his law firm Leupold Legal was awarded with the "Global Law Experts – 3D Printing Law Firm of the Year in Germany" Award and in 2017 it received the Corporate Intl Global Award "3D Printing Sector Law Firm of the Year Germany".
For several years now, Dr. Leupold is working intensively on developments in the field of additive manufacturing and the associated legal requirements for companies. He gives lectures on industrial 3D printing & law and runs in-house workshops for management and legal departments in large companies. He is author of the guide "3D Druck, Additive Fertigung und Rapid Manufacturing" published by Verlag Franz Ahlen, and editor of the work for companies "3D Printing: Recht, Wirtschaft und Technik des industriellen 3D-Drucks", which will be released in summer 2017 and in which authors from industry and legal sciences discuss the latest topics of 3D printing for companies. In addition, Dr. Leupold, together with Judge Silke Glossner, is editor of the munich lawyer's guide for IT law published by C.H.Beck. Lawyer Dr. Andreas Leupold is founding member and advisory council of Mobility goes Additive e.V.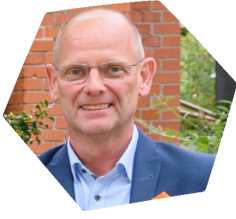 Klaus Roeser
Advisory Counsellor
For 26 years until the end of 2019 Klaus Roeser has been working for the Paul Schockemöhle group and since 2007 amongst others as managing director with Paul Schockemöhle Logistics GmbH & Co.KG (PSL). In this time he has been responsible for developing PSL into a modern, middle sized logistics company seated in the heart of the economically strong "Oldenburger Münsterland" in northwest Germany. Driven by a strong entrepreneurial approach, he is convinced about the importance of spotting disruptive potentials of 3D business models at an early stage and to act accordingly and decisive. He is active in transferring the 3D technology into the small and medium sized business sector in economically strong rural areas. Ever since he was a child and during military service, bank apprenticeship and his studies in business administration Klaus Roeser has been devoted to horses; these days in his role as chef d'équipe he is a strong pillar of the successful German national dressage team.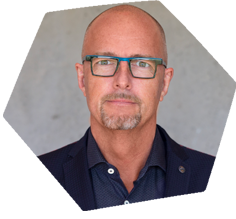 Oliver Cynamon
Advisory Counsellor
After studying business administration at the Friedrich-Alexander-University Erlangen-Nuremberg, Oliver Cynamon worked as a management consultant for ten years. For ten more years he held various positions in the printing and media industry as managing director and member of the board of directors and the executive board. He entered the 3D printing industry in 2013, founding a start-up brand for customizable, additively manufactured lifestyle products. In July 2017 he joined the FIT Additive Manufacturing Group. As managing director of FIT Production GmbH, he is responsible for the worldwide serial AM business while also leading the business development and marketing activities of the whole group.