Alexander Daniels Global, an MGA member and recruitment company for additive manufacturing, has recently released the 4th edition of the Additive Manufacturing Salary Survey; the most comprehensive remuneration study in the industry. The survey can be downloaded freely here.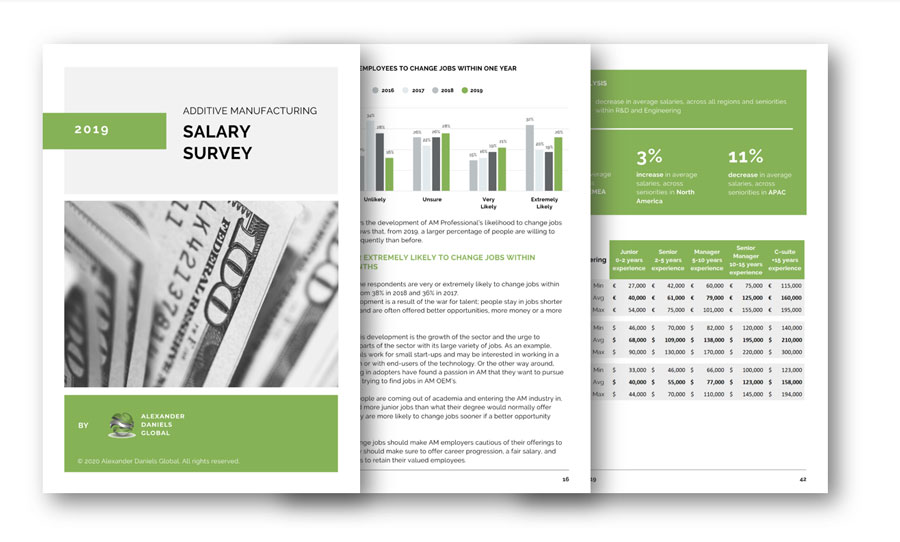 Benefit for AM professionals
AM professionals can compare and benchmark their salaries across geographic locations, levels of seniority and six key disciplines; Sales, Marketing, Service, Software, R&D & Engineering, and Application & Consulting.
Moreover, the report provides insights into hiring trends, in-demand roles and skills, hiring intentions, and market trends. The report seeks to answer the following questions for the professionals in the industry:
What is the salary that professionals are receiving in my field in different regions?
What skills should I develop to advance my career?
How will my salary increase with more experience in AM?
Am I currently paid according to my market value?
What employee benefits can I expect from an employer?
Benefits for AM organisations
For hiring managers in AM organisations, the report helps provide an overview over salaries, but more importantly, it provides in-depth insights into the motivations and needs of the AM professionals. Knowing what motivates talented professionals is crucial to attracting and retaining employees; crucial in this time of talent scarcity where companies fight for the most talented professionals.
The report seeks to answer the following questions for the AM employers:
What does the talent want?
What is the package we should offer to AM professionals of different disciplines to attract them to our organization?
What is the staff budget that we need in order to expand our business to another country?
How do we ensure our employees' job satisfaction? What levers should we pull?